---
---

FISCHER
RESCUE
SQUAD


FISCHER
RESCUE
SQUAD
Home Page
---
---
WHO YOU GONNA CALL?
---
---
THANK YOU
To everyone for their support over the years, without it we could not do what we do best,
'Save Lives and Serve Our Community'
---
The Current Time is .

GET THE LATEST NORTH ALABAMA WEATHER HERE
---

Click above for a better quality picture

OUR HOME
Formerly Fischer School building

BRIEF HISTORY

The Fischer Rescue Squad is one of the oldest operating rescue squads in the state of Alabama and is the oldest in Dekalb county. The squad was organized in early 1960 by the Fischer Explorer Scouts for the purpose of search and rescue and has been in operation since. Fischer is located on the outskirts of Fort Payne Alabama. We serve the Fischer area on Lookout Mountain which includes Desoto State Park to our north and the USA's newest National Preserve, Little River Canyon National Preserve. to our east. We proudly serve as members of the Alabama Association of Rescue Squads (AARS).
FISCHER RESCUE UNVEILS NEW ROPE TRUCK
For the past several years the members of Fischer Rescue Squad have been working diligently to raise money toward the purchase of a later model Rescue Vehicle. After being denied repeatedly for Federal and State Grants, the members took it upon themselves to solicit donations from within the community, as well as having various fundraising activities, such as chicken dinners, chili dinners and an ongoing 911 sign campaign. We had 2 members make separate trips to Washington to meet with Representative Robert Aderholt to ask for assistance, but to no avail.
Despite this drawback, Fischer Rescue Squad has purchased and put into service a 1995 model vehicle to be used as their primary Rope Rescue Truck. We have stepped out in faith that our community and local business leaders will continue to assist with our financial obligation to pay for it. We are truly grateful for what has already been given, and would like for anyone interested in contributing to send their tax-deductible donation to" Fischer Rescue Squad at 1309 Fischer Road, Fort Payne, Alabama 35967

---
ABOUT US
Our building was acquired from the Dekalb County School Board back in 1978. The building is used by Boy Scout Troop 75, Lookout Mountain Senior Citizens and is also made available to the community for Family Reunions, Birthday Parties, Socials and Community Classes. It is a designated Emergency Shelter by the Red Cross for this area if it is ever needed, It has a lunchroom and kitchen facilities that can seat up to 75 people. Our meeting room and communications room. Two large rooms used by the Boy Scouts. Separate restrooms. We recently installed Heating and Cooling vents for the lunchroom area to make it more comfortable. The bay area houses our vehicles,
1995 Chevrolet 4x4 1 ton extended cab with service bed, used for Rope Rescue vehicle
1976 Dodge 4x4 3/4 ton military ambulance converted into our Search and Rescue truck.
1977 Ford 1 ton with utility bed, 8KW generator with two 1000 watt flood/spot lights.
1986 Ford 4x4 Truck used for inclement road conditions, search and rescue.
18 foot flat bottom aluminum boat with 25 H.P. Johnson motor used for water recovery.
---
---

---
---
OUR MEMBERS
We currently have 36 members which include:
11 Divers, Y.M.C.A , PADI and NASE/WASI
7 Medics (E.M.T. Basic and up),
15 High Angle Rescue ,
6 Cave Rescue ,
6 Amateur Radio Operators ,
7 Sky Warn Weather Spotters ,
3 Confined Space Rescue ,
2 Farm Rescue ,
4 S.A.R.
And several instructors with a combined knowledge in Tactical Rope Rescue , S.C.U.B.A. , S.A.R. , High Angle Rescue along with First Aid and C.P.R.
---
---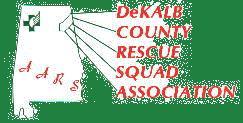 LINKS TO OTHER DEKALB COUNTY SQUADS
Fort Payne Fire & Rescue
Sylvania Fire Department


---
---
LINKS TO OTHER ALABAMA SQUADS
Carbon Hill Rescue Squad
Huntsville Madison County Rescue Squad
Montgomery-Elmore County Search And Rescue, Inc.
---
---
OTHER RESCUE LINKS
Search & Rescue Home Page
Other Fire & EMS Departments in Alabama on the Web
Fire & EMS Information Network
Knoxville Rescue Squad (Tennessee)
Chad's Safety Page (Nice Page)
National Safety Council Home Page
National Cave Rescue Commission (NCRC)
National Association of Search & Rescue (NASAR)
Knox County Tennessee Dive Team
---
Scuba Diving Explained, a great reference book on Scuba Diving
---
---
HAM RADIO LINKS
KC4OR's Home Page, Centre Alabama
Cherokee County Amateur Radio Club
American Radio Relay League Home Page
---
---
Mentone Alabama Home on the Web

---
---




Send email to fischer_rescue@canyonoutdoors.com
Web Site hosted by:
鹸, Canyon Country Computer Consultants
Let us put the world wide web to work for you.